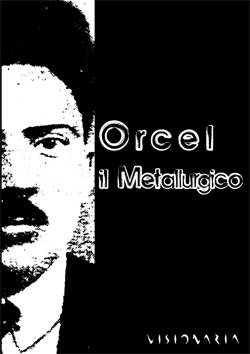 Giovanni Orcel, a metalworker and passionate Sicilian trade unionist.
Through the private life of Giovanni Orcel, a metalworker and passionate trade unionist, we'll talk about the reconstruction of Palermo, at the beginning of the industral age, disappeared among the grievous fogs of the two world war. Orcel claims with bigger passion and committement the only industry that, still now, is putting to work thousands of workers, but that the same city doesn't know or maybe doesn't appreciate: the Shipyards.
DESCRIPTION
Giovanni Orcel born in Palermo in 1887, and here die killed by an hired killer the 14th October 1920. His family is quite modest, his father works as employee, and the boy since after primary school have to find a job. Orcel is eleven years old and starts to work as composer in a print shop. Since he was very young he starts attending the main office of the House of Work, in Montevergini street and he's charter member of a youthful club of "revolutionary and anti-militaristic inspiration". At the end of the war Orcel commits his union passion to the Fiorm, the metal workers federation . In March 1919 he's elected unanimously as Fiorm vice-secretary, soon after party leader (secretary). In September 1920 Orcel and Fiorm top management occupy the shipyards of Palermo. After a month he's killed.
So much passion, so much stubborn self-sacrifice, it's less important the political "colour"! We give more attention to the private life of a man.